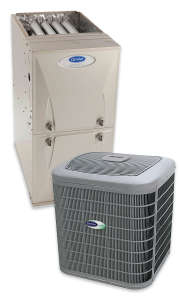 When the leaves begin to fall and the temperature starts to get colder – it can mean only one thing… Winter is on its way.  This is the ideal time for furnaces in Windsor and Essex County to be receiving their annual inspections and in some cases it may be best to look into a furnace replacement before the bad weather hits.
When deciding if you are due for a furnace replacement it is important to take into consideration the efficiency of your furnace.  If the furnace is older or needs frequent repairs, it may be time to consider an upgrade. To better understand your furnace needs,  take some time and review your bills from the previous winter. This can be an obvious indicator.
Also take into consideration that the energy efficient units sold today use less energy than ever, and should operate reliably for 20 to 30 years. If your unit is more than 15 years old, it's a good idea to begin considering furnace replacement options.
If you are looking for a furnace in Windsor / Essex County, Temperate Control Services can provide you with free consultations to better understand the options available and recommend the best heating unit for your specific needs.
We can also take care of your indoor air quality with products such as humidifiers, UV lights, fresh air heat exchangers, air purifiers, and high efficiency air filters.
For more information on our furnace options, visit our HVAC page on our website or give us a call.